les magasins, les hôtels, et les restaurants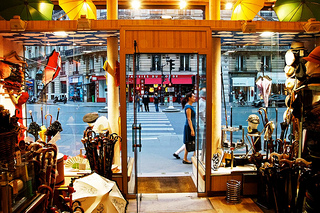 le magasin

store, department store

la boutique

small store

le grand magasin

department store

le marché

market

le supermarché

super market

le centre commercial

mall

l'épicerie

f.

small grocery store
le commerçant

/

la commerçante

shop keeper

un marchand

/

une marchande

shop keeper/merchant

un commis de magasin

assistant

le client

client

la clientèle

clientel
Une épicerie est tout près.

A grocery store is very close.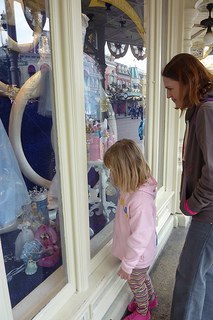 faire du lèche-vitrines

to go window shopping

faire les courses

to go shopping

Je fait une commission pour ma mère.

I'm running an errand for my mother.

en rupture de stock

out of stock
Qui va payer la note ?

Who's going to pay the bill?

régler sa note

pay your bill
| | |
| --- | --- |
| le restaurant | restaurant |
| le resto | restaurant familier |
| le bistro | a small restaurant serving moderately priced simple meals in a modest setting |
| la brasserie | brewery; a small restaurant serving beer and wine as well as food; usually cheap |
| le café | cafe |
la carte

menu

la boisson

beverage

l'entrée

f.

appetizer

le menu

set of foods (appetizer, main dish, dessert)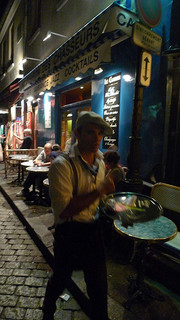 Je pense commander le menu végétarien.

I intend to order the vegetarian menu..

Les portions servies dans ce restaurant sont très copieuses.

The portions at this restaurant are very large.

L'addition sil vous plait !

The check please

.

En France, c'est rare qu'on laisse un pourboire.

In france it's rare that you leave a tip.
| | |
| --- | --- |
| le bar | bar |
| la boite de nuit | night club, discothèque |
l'hôtel

hotel

- l'entrée

f.

- lobby

- le hall d'entrée

- lobby probably big and tall

- le vestiaire

- cloak room

l'auberge

f.

inn

l'auberge de jeunesse

f.

hostal

une chaîne hôtelière

hotel chain
le client

guest

le gérant

/

la gérante

manager

le personnel

staff

la femme de chambre

maid

le portier

doorman

le service à l'étage

roomservice
faire une réservation

make a reservation

verser des arrhes pour un réservation de la chambre

make a deposit on a room
| | |
| --- | --- |
| complet | no vacances |
| chambres libres | vacancies |