appuyer sur le bouton
press the button

lâcher le bouton
release the button
tourner le bouton
turn the dial

| | | | |
| --- | --- | --- | --- |
| l'émission f. | program (tv, radio) | l'épisode m. | episode |
| la série | series | le feuilleton | serial/ soap opera |
mettre une chanson
play a song
arrêter la chanson
stop the song
mettre le CD sur pause
pause the CD
J'adore la musique que tu passes.
I love the music that you're playing.
enregistrer l'émission
record the program
effacer l'épisode
erase the episode
passer au morceau suivant
skip to the next song

changer le canal
changer the channel

Montez le son!
Turn up the music!

Pourriez-vous baissez le son?
Could you turn down the music?

augmenter le volume
raise the volume

baisser le volume
lower the volume

| | | | |
| --- | --- | --- | --- |
| l'électricité | electricity | le courant électrique | electric current |
| électrocuter | electrocute | l'électricité statique | static electricity |
allumer la radio
turn on the radio

éteindre la radio
turn off the radio

brancher l'appareil
unplug the appliance
débrancher l'appareil
plug-in the appliance
Mon portable n'est pas chargé.
My cell phone isn't charged.

La pile est morte.
The battery is dead.

recharger son portable
recharge the portable
| | |
| --- | --- |
| le court circuit | short circuit |
Il y a une panne d'électricité.
The power is out. / blackout
un fusible a sauté / un plomb a pété / un plomb a sauté
a fuse blew
Le disjoncteur a sauté. Il faut le réarmer.
the circuit breaker was tripped. It must be reset.

J'ai reçu un décharge électrique.
I recieved an electric shock.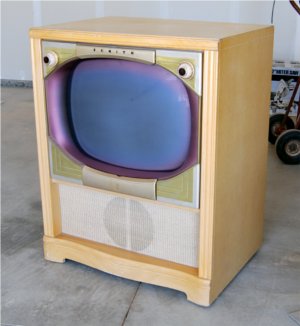 | | |
| --- | --- |
| sous garantie | under waranty |
| le réparateur | repair man |
| l'usure | wear and tear |
La télé est en panne.
The television is broken.

La télé remarche. C'est de la magie !
The television is working again. It's magic!

Le sèche-cheveux ne marche plus.
The blow dryer doesn't work anymore.

C'est cassé.
Implies that a piece has broken off or it's in pieces.

L'usure n'est pas couverte par la garantie.
Wear and tear isn't covered under the warranty.