le voyage terrestre - suite
| | |
| --- | --- |
| le chauffeur | driver |
| le chauffard | bad driver |
prendre un raccourci

take a short cut

faire demi-tour

turn around, do a u-turn

tourner à gauche

to turn to the left

aller tout droit

go straight ahead
Tais-toi et roule !

Shut up and drive!
Il est impossible de voyager plus vite que la vitesse de la lumière.

It's impossible to travel faster than the speed of light.

Je rentre à toute vitesse.

I'm returning at great speed.
| | |
| --- | --- |
| accélérer | to accelerate, to speed up |
| partir en trombe | accelerate very quickly from a standstill |
| appuyer sur le champignon | punch the accelerator, hit the gas |
| ralentir | to slow down |
| freiner | to brake |
| s'arrêter pile poil | stop dead |
| avancer en roue libre | to coast |
A Paris, en vélo on dépasse les autos.

In Paris, on a bike you pass the cars.

On double les voitures par la gauche

.

You pass the cars on the left.
La voiture est garée.

The car is parked.

faire un créneau

to parallel park

On a embarqué ma voiture.

/

On a emmené ma voiture à la fourrière.




They towed away my car.

Ma voiture est en panne. J'ai besoin d'une remorque.

My car broke down. I need a tow.
la contravention

ticket

l'amende

f.

fine
conduire trop vite

to speed (go too fast)

dépasser la limite de vitesse

to speed

Il a eu une contravention pour excès de vitesse.

He got a ticket for speeding.

/




run a red light

se faire flasher au radar

get caught by the hidden camera
la conduite en état d'ivresse

drunk driving

J'ai commis un délit. J'étais distrait parce que je parlais dans mon portable et j'ai fauché une vieille dame.

I committed a crime. I was distracted because I was talking on my cellphone and I ran over an old lady.
Ne tombez pas dans le canal.

Don't fall into the canal.

virage à gauche interdit

left turn prohibited

convergez à gauche

to merge left

céder le passage

to yield

à sens unique

one way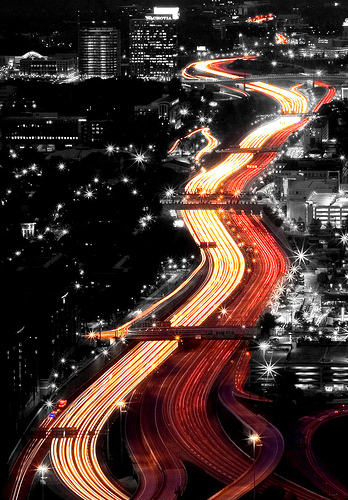 la circulation

traffic

l'embouteillage

m.

traffic jam

les heures de pointe

f.

rush hour

les heures d'affluence

f.
Elle est coincée dans les embouteillages.

She's stuck in traffic.

Je suis prise dans un embouteillage monstre !

I'm stuck in a monstrous trafic jam!
un refus de priorité

not respecting the right of way

Vous n'avez pas respecté la priorité !

You didn't respect the right of way!

Laissez la priorité à droite.

Give the right of away to the car on the right.

C'est mieux de s'attacher. On ne sait jamais.

It's better to buckle up. You never know.

avoir un accident de voiture

to be in an car accident

Elle a percuté une voiture stationnée.

She hit a parked car.

Ma voiture est démolie.

My car is totalled.
s'arrêter en dérapant

to skid to a stop
le virage

bend

l'accotement

m.

shoulder

le terre-plein central

median

la bretelle d'accès

ramp

le viaduc

overpass

une bifurcation

fork
| | |
| --- | --- |
| le rond-point | round about |
| | |
| --- | --- |
| la chaussée | pavement |
| le goudron | tar |
| le nid-de-poule | pot hole |
| la bosse | bump |
| le dos d'âne | speed bump (back of donkey) |
La rue est mal pavée.

The road has pot holes.
| | |
| --- | --- |
| le péage | toll |
| la route à péage | toll road |
Tu as payer un péage ?

Did you pay a toll?