Les médecins et les hôpitaux
Doctors & Hospitals
| | |
| --- | --- |
| le cabinet médical | doctor's office |
| la salle d'attente | waiting room |
| le malade | patient |
| un médecin traitant | primary doctor |
| la visite médicale | medical check-up |
faire un bilan de santé

get a checkup

J'aimerais prendre rendez-vous.

I'd like to schedule an appointment.

Je dois annuler mon rendez-vous.

I need to cancel my appointment.

En France, certains médecins reçoivent sans rendez-vous.

In France, certain doctors see you without an appointment

faire des analyses

run tests

prélever du sang

draw blood

C'est l'heure de la piqûre.

Now it's time for the shot.
| | |
| --- | --- |
| le diagnostic | diagnosis |
| le pronostic | prognosis |
Le pronostic n'est pas si mauvais. Vous avez encore quelques années à vivre.

The prognosis isn't that bad. You still have a few years to live.
l'ordonnance

f.

prescription
la pharmacie

pharmacy

l'accoutumance

f.

addiction

l'overdose

f.

overdose

l'état de manque

m.

withdrawal
J'ai besoin d'aller chercher une ordonnance à la pharmacie.

I need to pick up a prescription at the pharmacy.

se droguer aux analgésiques

to take painkillers as drugs

J'ai une accoutumance au café

.

I'm addicted to coffee.
Il fait de l'hypertension artérielle.

He has high blood pressure

.
l'hôpital

m.

hospital

la réanimation

intensive care

la chirurgie

surgery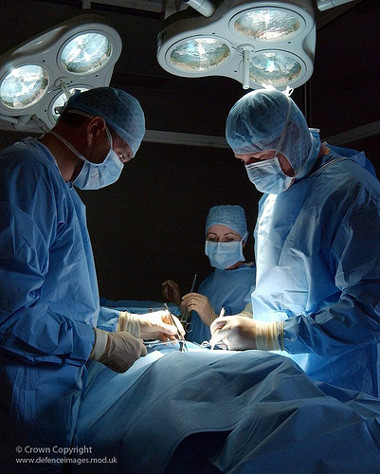 une greffe

a transplant

l'anesthésie

f.

anesthesia
| | |
| --- | --- |
| greffer | give an organ transplant |
| amputer | to amputate |
être de garde

to be on duty

Je suis désolé mais nous devons amputer vos doigts de pied.

I'm sorry but we're going to have to amputate your toes.

En cas de décès, souhaitez-vous faire un don d'organes ?

If you don't survive the surgery, would you like to donate your organs?

Les heures de visite sont terminées.

visiting hours are over
une crise cardiaque

heart attack

l'infarctus

m.

une congestion cérébrale

a stroke
des artères bouchées

clogged arteries
| | |
| --- | --- |
| les premier secours | fist aid |
| le bouche à bouche | mouth to mouth |
| RCR (réanimation cardio-respiratoire) | CPR |
Au moment où Laura est tombée dans les pommes, je lui ai fait du bouche à bouche. C'était la première fois que nos lèvres se sont rencontrées.

When Laura fainted I gave her mouth to mouth. It was the first time our lips touched.