drôle
marrant

/

marrante

funny

drôle
rigoler

(familier)

to laugh

se marrer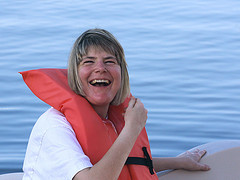 On s'est marré.

We laughed!

On s'est marré comme des baleines.

We laughed like whales (mouths open wide)...

Le comédien nous a fait marrer.

The comedian made us laugh.
Marre the adjective has nothing to do with the verb se marrer.
J'en ai marre de ton désordre.

I'm tired of your mess.

J'en ai marre.

I'm sick and tired of it.
| | |
| --- | --- |
| l'humour | humor |
| le sens de l'humour | sense of humour |
/




I'm joking.

Raconte nous une blague.

Tell me a joke.

On m'a fait une farce.

They played a practical joke on me.

Il nous a joué un tour.

He played a trick on us.

Tu veux rire !

You've got to be kidding.

Il ne supporte pas la plaisanterie. Il n'a pas le sens de l'humour.

He can't take a joke. He has no sense of humour.
On m'a taquinée sur mon accent.

They teased me about my accent.

On s'est moqué de nous.

They' made fun of