La chambre à coucher - suite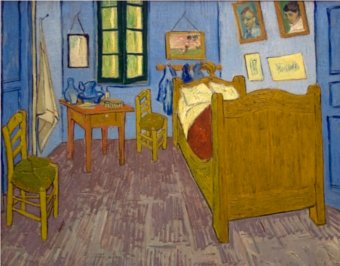 la literie

bedding

la table de chevet

bedside table

le dessus-de-lit

bedspread

la taie d'oreiller

pillow case

douillet

adjective

cozy

la couette

comforter
faire le lit

make the bed

Le lit est défait.

The bed is unmade
un lit à deux places

a bed for two people

un lit à une place

a bed for one person
Tu as bien dormi ?

Did you sleep well?
Il s'est assoupi devant le film.

He dozed off during the movie.

Elle s'est endormie au volant.

She fell asleep at the wheel.

J'ai besoin de pioncer.

(informal)

I need to sleep

Je vais pioncer dans mon pieux.

(informal)

I'm going to get some shut-eye in my bed.

Elle a besoin de repos.

She needs rest.

Je vais faire un petit somme.

I'm going to take a quick nap.
| | |
| --- | --- |
| la sieste | nap in the afternoon |
Elle va faire la sieste.

She's going to take an afteroon nap.

C'est l'heure d'aller se coucher les enfants !

It's time to go to bed children.

dormir à poings fermés

sleep like a log, literally sleep with fists closed
| | |
| --- | --- |
| un rêve | dream |
| rêver | to dream |
| un cauchemar | nightmare |
| une rêverie | daydream |
| rêvasser | to daydream |
faire un mauvais rêve

have a bad dream

J'ai rêvé de vous hier.

I dreamed about you yesterday.

Il ne fait pas attention. Il rêvasse pendant le cours.

He doesn't pay attention. He daydreams during the class.
l'insomnie

f.

insomnia

le somnambule

mf.

sleepwalker
passer une nuit blanche

spend a sleepless night

Restons éveillés ce soir !

Let's stay up tonight.

Un somnambule marche en dormant.

A sleepwalker walks while asleep
un lève-tôt

mf.

an early riser

un lève-tard

mf.

a late riser
Il est matinal.

He's an early riser.
faire la grasse matinée

sleep in

Le réveil a sonné à 5 heures.

the alarm went off at 5 o'clock