The passé composé is usually formed by following the present tense of avoir with a past participle.
| | | | |
| --- | --- | --- | --- |
| | | | I loved |
| | | | you loved |
| | | | he/she loved |
| | | | We loved |
| | | | You loved |
| | | | They loved |
There is a group of verbs for which the passé compose is formed with être as opposed to avoir.
.. être is only used only when the verb is intransitive - that's to say it doesn't have a direct object.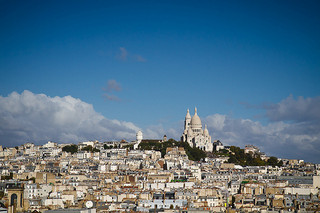 Elle est retournée à Paris.
She returned to Paris.

Elle a retourné le livre.
She returned the book.

Nous sommes montés au Sacré Cœur.
We climbed up to the Sacré Cœur (sacred heart.)

Nous avons monté le piano.
We brought up the piano.

Il a monté l'escalier.
He climbed the stairs.
When être is used the past participle always agrees with the subject in the same way as an adjective agrees with a noun. Verbs based on the above verbs such as devenir and verbs with the re prefix such as revenir, rentrer, remonter, also use être when used intransitively.
Colette est devenue une écrivain extraordinaire.
Colette became a remarkable writer.
When avoir is used, the past participle agrees only with preceding direct objects (see PDO agreement).
When the subject and object of a verb have a reflexive relationship - the subject does something to itself (see pronominals (reflexives), the auxiliary verb is always être.
Marie s'est réveillée à six heures.
Marie woke up at six o'clock.

Marie a réveillé les enfants à six heures.
Marie woke up the children at six o'clock.